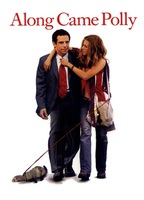 Director:

John Hamburg

MPAA Rating:

PG-13

Runtime:

90 Minutes

Theatrical Release:

01/16/2004

Home Release:

06/08/2004

Country:

USA

1 Blog Post for this Title >>
Along Came Polly (2004) tells the story of Reuben (Ben Stiller), an uptight guy whose wife cheats on him while on their honeymoon. He returns to New York, heartbroken, but then reconnects with his high school crush Polly (Jennifer Aniston) who turns his life upside down and inside out in all the right ways.
Ben Stiller gives a cheeky performance as a very uptight insurance risk analyst. He wears a few tight outfits and even has a shirtless scene, but it is the end of the movie where his rear...
Join Mr. Man for the full Review >>
Titles similar to Along Came Polly