American Wedding (2003) Nude Scenes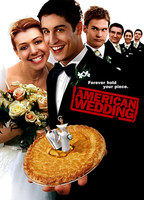 Nudity Rating: Brief Nudity
Genres: comedy, romance
Country: USA
Theatrical Release: 08/01/2003
Home Release: 01/02/2004
Director: Jesse Dylan
MPAA Rating: R
Runtime: 96 Minutes
The gang is back for Jim and Michelle's wedding. American Wedding (2003), is packed with classic American Pie humor. Get ready for a lot of Steve Stifler (Seann William Scott) and watch as this wedding goes way over the top!
While this movie has a good amount of boobage, we definitely could have used some family jewels at this wedding. A couple quick glances at Jason Bigg's big booty are nice, but for an American Pie film we...See Full Review
See More
Other titles similar to "American Wedding"