Want FREE Access to American Wedding? Enter an e-mail address, create a password, start watching!
American Wedding nude-scenes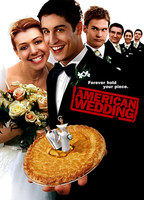 Nudity Rating: Brief Nudity
Genres: comedy, romance
Country: USA
Theatrical Release: 08/01/2003
Home Release: 01/02/2004
Director: Jesse Dylan
MPAA Rating: R
Runtime: 96 Minutes
The hormonal gang is back for Jim and Michelle's wedding in American Wedding (2003). The perfectly hole-some humor established in the original American Pie lends itself to the shenanigans that occur when the rowdy Stifler (Seann William Scott) complicates the nuptials, butting heads with Jim's besties Kevin (Thomas Ian Nicholas) and Paul (Eddie Kaye Thomas). Thankfully the boys bring back the dudity, with Jason Biggs... See full review
View All
Other titles similar to "American Wedding"