Want FREE Access to Captain Fantastic? Enter an e-mail address, create a password, start watching!

advertisement

Captain Fantastic nude-scenes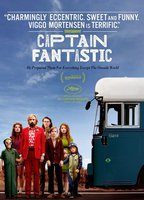 Nudity Rating: Great Nudity
Genre: drama
Country: USA
Theatrical Release: 07/08/2016
Home Release: 10/25/2016
Director: Matt Ross
MPAA Rating: R
Runtime: 118 Minutes
Captain Fantastic (2016) is about the struggles one devoted father faces when he must compromise the traditions of his family after his wife's passing. Ben (Viggo Mortensen) is a father of six children, and his nontraditional parent approach involves living completely off the grid, where experiential learning on the fringes of society helps his close-knit family gain a unique, wholesome perspective on life. The loss of... See full review
View All
Other titles similar to "Captain Fantastic"