Want FREE Access to Eduardo Noriega? Enter an e-mail address, create a password, start watching!
Eduardo Noriega nude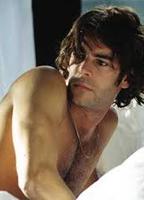 Nudity Rating: Great Nudity
Number of Roles: 6
Birthdate: 8/1/1973
Location: Santander, Cantabria, ES
Ethnicity: Latino / Hispanic
Eduardo Noriega is a sexy Spanish actor who actually started off wanting to be a musician, but then found his calling on the silver screen. Just a glance as his nudity résumé shows that Eduardo is more than willing to give every inch of his body to his art.
Early in his career it was all about the tease. Eduardo shows some thigh, a hip and a little crack in The Devil's Backbone (2001), but it...See full bio
Mr Man Favorite 3 Places to See Him Nude
Nude
butt, sexy, straight, shirtless, bulge, underwear
Sexy
sexy, shirtless, straight
Nude
shirtless, penis, sexy, straight
Nude
sexy, straight, butt, penis, shirtless, balls, thong
View All
Celebs similar to Eduardo Noriega