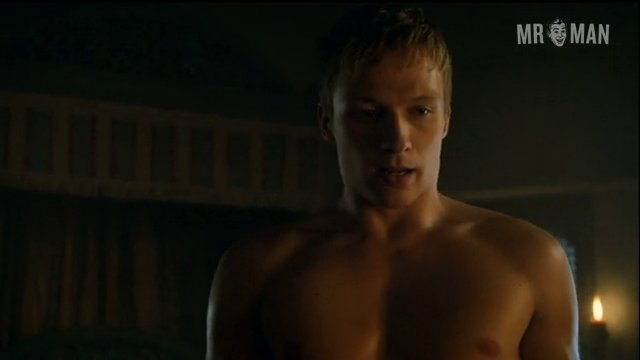 Description
The hottest dudes from Game of Thrones.
With season five of Game of Thrones kicking off this weekend, Mr. Man has put together a playlist of some of the best nudity that the show has offered so far. The series is jam packed with hunks, so let's hope that this new season brings the beefcake in the buff. Until everything unfolds this year, enjoy these nudes/semi-nudes from the past.
The hunky Jason Momoa bares his beefy chest as he bangs a lucky chick. Richard Madden loses his shirt during a sexy hook up with his woman. Kit "don't call me a hunk" Harington teams up with a butt double as he goes for a swim. In a same-sex-rrific scene, Will Tudor shows off every inch of his slender body. It's a butt and back sack moment from Nikolaj Coster-Waldau as he hops into the bath. Alfie Allen gets full-frontal intimate with a lucky woman. Okay, so it's not a sexy scene, but it does give us cock and balls from Simon Lowe. Kristian Nairn gets fully nude and fully covered with powder. The Queen gets a real treat when Michiel Huisman flashes his abs and ass. Gethin Anthony gets cheeky while getting blown by Finn Jones. They're back! It's Gethin and Finn sharing a passionate moment with their shirts off. An orgy gives us full-on nudity from Will Tudor and some shirtlessness from Pedro Pascal. We'd like to party with these two! Lastly, Joseph Dempsie flaunts his warrior physique while showcasing his sword-handling skills.
Looks like winter isn't the only thing that's coming!