Want FREE Access to Hands of Stone? Enter an e-mail address, create a password, start watching!

advertisement

Hands of Stone nude-scenes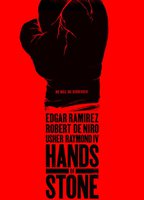 Nudity Rating: Great Nudity
Genre: drama
Countries: Panama, USA
Theatrical Release: 08/26/2016
Home Release: 11/22/2016
Director: Jonathan Jakubowicz
MPAA Rating: R
Runtime: 105 Minutes
Boxing drama Hands of Stone (2016) follows the life of famed boxer Roberto Durán (Édgar Ramírez), cumulating in his infamous fight against Sugar Ray Leonard (Usher Raymond). Grizzly veteran trainer Ray Arcel (Robert De Niro) sees something special in Roberto, and decides to take him under his wing at the age of 72. His hard work pays off, and helps catapult Roberto to stardom, which we see play... See full review
Nude

shirtless, bulge, underwear, butt, straight, sexy

Nude

shirtless, bulge, butt, straight, sexy
View All
Other titles similar to "Hands of Stone"