Want FREE Access to Irreversible? Enter an e-mail address, create a password, start watching!
Irreversible nude-scenes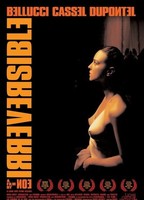 Nudity Rating: Great Nudity
Genres: crime, drama, mystery, thriller
AKA: Irréversible
Country: France
Theatrical Release: 03/07/2003
Home Release: 08/05/2003
Director: Gaspar Noé
MPAA Rating: NC-17
Runtime: 97 Minutes
Director Gaspar Nóe dropped the brutal film Irréversible (2002) on unsuspecting audiences at the 2002 Cannes Film Festival and caused an uproar with its controversial violent sex and murder scenes. The film is told in reverse, starting with a murder scene and working backwards to show why the murder happened. Vincent Cassell stars opposite his real-life woman, Monica Belluci, and the two have some great moments... See full review
Nude

sexy, shirtless, straight, butt, balls, penis
View All
Other titles similar to "Irreversible"