Want FREE Access to Little Sharks? Enter an e-mail address, create a password, start watching!
Little Sharks nude-scenes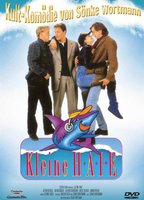 Nudity Rating: Brief Nudity
Genre: comedy
AKA: Kleine Haie
Country: Germany
Theatrical Release: 09/03/1992
Home Release: 09/08/2003
Director: Sönke Wortmann
Runtime: 87 Minutes
Little Sharks (2014) is about a dishwasher named Ingo who's just been dumped. He meets acting student Johannes and the two go on a road trip to Munich where they both try their luck at starting their lives over. As they hitchhike they meet many different people, get into some trouble, try new things, and even fall in love. A European road trip movie isn't complete with some sexy skin from naked guys! We see Jugen... See full review
View All
Other titles similar to "Little Sharks"