Want FREE Access to Love! Valour! Compassion!? Enter an e-mail address, create a password, start watching!
Love! Valour! Compassion! nude-scenes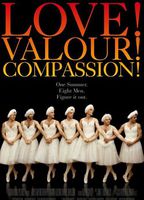 Nudity Rating: Great Nudity
Genres: comedy, drama, romance
Country: USA
Theatrical Release: 05/16/1997
Home Release: 05/04/2004
Director: Joe Mantello
MPAA Rating: R
Runtime: 108 Minutes
Love! Valour! Compassion! (1997) is a story about seven friends spending the summer together in upstate New York. A couple, some twins, and a few other interesting characters have the standard unforgettable summer, with a few twists. From seduction to battling disease, these seven men have their hands full of issues, and each other. Randy Becker doesn't hesitate at all to show his Becker pecker to the world, and what a... See full review
Nude

penis, butt, balls, shirtless, gay

Nude

butt, gay, balls, penis, shirtless
View All
Other titles similar to "Love! Valour! Compassion!"