Want FREE Access to Magic Mike? Enter an e-mail address, create a password, start watching!
Magic Mike nude-scenes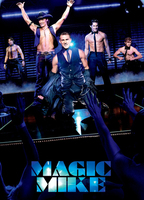 Nudity Rating: Great Nudity
Genres: comedy, drama
Country: USA
Theatrical Release: 06/29/2012
Home Release: 10/23/2012
Director: Steven Soderbergh
MPAA Rating: R
Runtime: 110 Minutes
The Steven Soderberg directed Magic Mike (2012) stars Channing Tatum as Mike Lane aka "Magic Mike," a thirty-year old Floridian who roofs houses by day and performs with a troop of male strippers at night. The beefy dancer desires to get out of the show to start a furniture-making business, but his crummy credit rating crushes his dream, despite having a sizable down payment. When fellow construction worker Adam (... See full review
Sexy

shirtless, thong, bulge

Sexy

thong, prosthetic, shirtless

Nude

shirtless, thong, bulge, butt

Nude

bulge, shirtless, butt, thong

Sexy

shirtless, bulge, thong, underwear

Nude

sexy, shirtless, thong, butt, bulge
View All
Other titles similar to "Magic Mike"