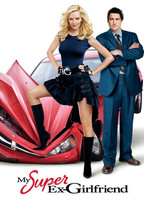 My Super Ex-Girlfriend (2006)
You think you have a rough love life? Talk to Luke Wilson in My Super Ex-Girlfriend (2006), who dumps needy girlfriend Uma Thurman not knowing that she is in fact "G-Girl," a super-powered crime fighter. Superheroes have feelings too, and Uma targets her relationship rage on the unsuspecting Wilson, who suffers the brunt of her unique abilities.
With plenty of sight gags – like sexual conquest mid-flight, Superman style – you'd expect at least a peak or two of skin.  But for a movie with a...
Join Mr. Man for the full Review >>
Top Scenes
Celebs
Titles similar to My Super Ex-Girlfriend