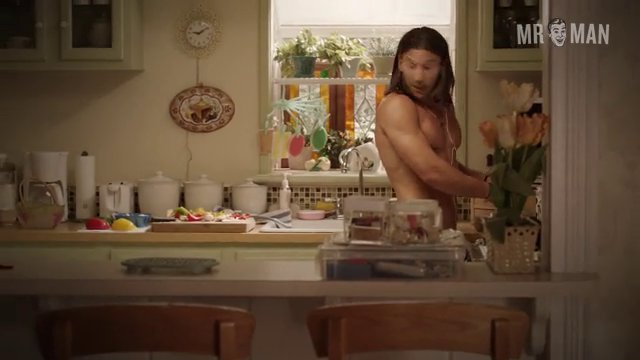 Description
Get up close and personal with these nudes!
This week Mr. Man has compiled some of the greatest scenes of close-up nudity. If you ask us, the camera can never get too close. The closer the camera gets to a Hollywood hunk's dick, the better the satisfying sensation is that inherently accompanies these extreme and up-close moments of pure joy. So get ready to get a great look at these eye-opening scenes in a playlist we've titled In Your Face. Skinjoy the views!
It's pots and pans and Jason Bigg's smashed schlong peeking through the glass lid of a pot in American Reunion. Keeping with the kitchen-themed scenes, Zach McGowan will make you McMoan with delight when you see his flaccid and flopping joint on an episode of Shameless, In a scene-stealing moment, Tyler Nilson's dingus is so close that we want to reach out and touch it in Walk Hard: The Dewey Cox Story. Like an erotic version of a sex education video, Martin Hedman shows us all how to put on a condom in Kärlekens språk 2000. Thaddeus Rahming wows us with a man-tastic view of his hefty hammer, bookended by the CGI'ed dong of Rich Brown, in Hall Pass. Okay, it's not his privates, but a close look at Mark Wahlberg's nip in Rock Star is not too shabby. Hurt so good! David Bulness teams up with a dong double to flaunt his caressed erection in Sex and Lucia. Ignore the bathroom antics and enjoy a look at Richard Hatch's dink in Another Gay Movie. Ripped, erected and ready to roll, Gabino Rodríguez jerks off in his gal's face in I Am Happiness on Earth. Kheim Lam peen gets some camera time in The Pillow Book. Triple X hunk Colby Jansen screens a scene of his rod meeting rectum in I'm a Porn Star. Nikita Tarasov gets his titular treat soaped and shucked in Intimate Parts. Sometimes we all need a hand in putting on our pants, and Hernan Munoa gives a dink-baring Jair Toledo a hand with his in Sexual Tension: Volatile. Sex and Lucia provides yet another scene of close up rod, but this time it is Daniel Freire that wows us. Okay, that might be a prosthetic, but don't let that ruin the moment. Sacha Baron Cohen brings some up-close penis puppetry to some lucky viewers in Brüno.
The cliché phrase "close, but no cigar" certainly doesn't apply here!