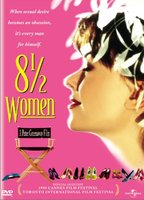 Director:

Peter Greenaway

MPAA Rating:

R

Runtime:

118 Minutes

AKA:

8 1/2 Women

Theatrical Release:

08/25/1999

Home Release:

10/10/2000

Countries:

Germany, Luxembourg, Netherlands, UK
8 1/2 Women (1999) is the U.K. comedy about Philip Emmenthal (John Standing), a middle-aged man whose wife has recently died. He is urged by his promiscuous son to fill his home in Geneva with eight and a half concubines. Each woman is unique as there is a nun, a child bearer, a gambler, a student of Kabuki, a horsewoman with a pet pig, and a maid. It's fun at first until the women begin to compete with one another for power and dominance over Philip's home. 
The women are sexy, but the men...
Join Mr. Man for the full Review >>
Top Scenes
Celebs
Titles similar to 8 ½ Women