Nikolaj Coster-Waldau Nude
Delicious Danish darling Nikolaj Coster-Waldau's breakout roll in 1994s Nightwatch made this stud a star in Denmark, but it would be another seven years before his American film debut in Black Hawk Down (2001). He has since gone on to play skilled warrior, Jaime Lannister, who has an incestuous relationship with on-screen twin, Lena Heady, in HBO's Game Of Thrones.
This sexy, scruffy, long-haired hottie has been playing risqué roles since 1994's Nattevagten, which features his sexy serpent...
Join Mr. Man for the full Bio >>
Bent
- as
Wolf (as Nikolaj Waldau)
(
Nude
)
Game of Thrones
- as
Jaime Lannister
(
Nude
)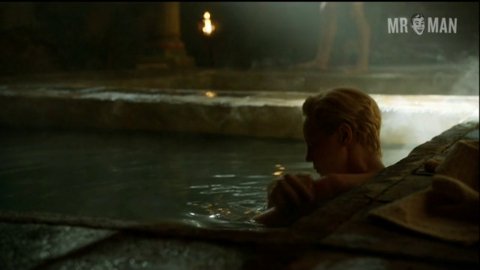 Season 3, Episode 5 - "Kissed by Fire"
(Apr 28, 2013)
Nude
,
balls
,
butt
,
shirtless
We get to see butt and back sack from Jaime Lannister as he gets into the bath.
Celebs similar to Nikolaj Coster-Waldau