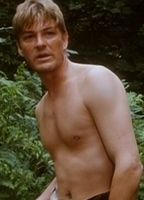 Keywords: Great Nudity!, White, Brown Hair
Nude Roles: 4
Birthplace: Sheffield, South Yorkshire, GB
Date of Birth: 04/17/59
Real Name: Shaun Mark Bean
Top Scenes
00:37:57

Good morning! Sean shows his white ass while slipping into his boxers. (27 secs)
advertisement
Biography
Sean Bean is well-known for his roles as Boromir in the Lord of the Rings Trilogy and Eddard Stark in HBO's hit show Game of Thrones, but over his career he has appeared in nearly 100 different movies and TV shows playing many different roles. In several of his early roles, Sean found his way out of his clothes and gave us a peek at what he is hiding behind that shield.
In When Saturday Comes (1996) Sean plays a football player. In one scene he is in a locker room with a bunch of naked men. There is a good butt shot and a quick view of his magic wand. Bravo Two Zero (1999) features the handsome Bean as a war captive who gets tortured. At one point he pulls his pants down and there is a lovely, lingering shot of his English bottom. Likely the best Sean Bean nudity comes in Lady Chatterley (1993) where he has several love scenes that show his firm butt flexing as he gets busy and one scene where he runs in the rain completely nude. He is free in this scene and lets it all hang out of you know what I'm saying.
"I'm not keen on sex scenes," Bean once said in an interview. That might explain why there are not a whole lot of them out there and fewer still as his career has gotten bigger and bigger. While he may not get nude often, we can enjoy what he has done and look forward to more impressive performances down the road.