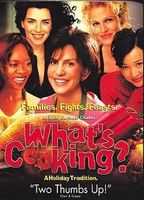 Director:

Gurinder Chadha

MPAA Rating:

PG-13

Runtime:

109 Minutes

Theatrical Release:

12/01/2000

Home Release:

04/10/2001

Countries:

UK, USA

1 Blog Post for this Title >>
L.A.'s Fairfax district is a melting pot, and no holiday stirs everything up quite like Thanksgiving. What's Cooking? (2000) is about four families dealing with the ever-present generation gap in a country that's not technically their own. The kids have all been Americanized and struggle to win the approval of their parents, who cling more tightly to tradition. There are estranged spouses, sexually active kids, lesbian lovers, and immigrant parents, and no one is making the right food....
Join Mr. Man for the full Review >>
Top Scenes
Celebs
Titles similar to What's Cooking?