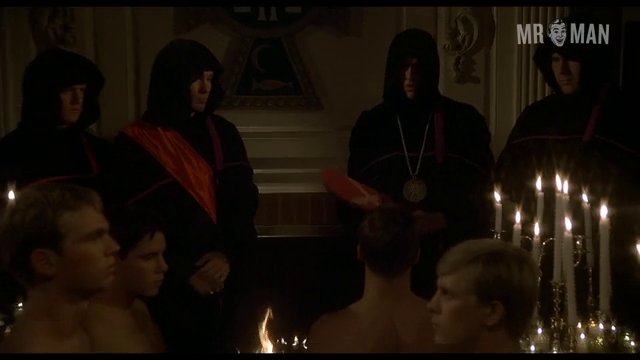 Description
The hits keep coming!
Deep inside many of us hides the desire to be spanked, lightly or firmly, right on the behind. Maybe in your case, it's the other way around. Maybe you're the one who likes to dole out the derriere smacks. Either way, Hollywood does a fantastic job by visually full-filling our fanny smacking fantasies on the big screen or boob tube. For those of you that fetish out over spanking scenes, this playlist is for you. The hits keep coming in this playlist chock full of the best spanking scenes Hollywood has to offer. Skinjoy!
In the classic scene, Kevin Bacon asks for more as he gets hazed in Animal House. It's both funny and sexy when Mark Wahlberg goes cheeks out and gets a licking from the titular stuffed animal in Ted. He has been a very bad boy, but Jerry O'Connell has a very nice ass that receives some healthy attention in Tomcats. The sexiest sci-fi shower scene ends with a smack on the ass for the hunky Casper Van Dien in Starship Troopers. Catholic school scenes always provide some fantasy fodder, and we get a healthy dose of homoerotic action when Leonardo DiCaprio gets paddled while on all fours in The Basketball Diaries. It's the bawdy comedy Tomcats again, but this time it is Jake Busey slapping his thong-clad ass. A dicking leads to death, along with a look at William H. Macy's ass as it gets slapped in Shameless. A nurse delivers an open-handed slap to Christopher Lloyd's lovely behind in Track 29. Who knew Freddy K. was so kinky. Marshall bell receives some cheek abuse from Kruger in Nightmare on Elm Street 2. It's two for the price of one when Gary Anthony Stennette shows off his backside and receives a smack from T.J Hoban in From Here on OUT. A massage leads to the slapping of Trevor Goddard's butt in Flexing With Monty. There's a lot to see, but Michael Carbonaro's beautiful butt gets some spanking from some hot dudes in Another Gay Movie. We never get tired of this scene. Paul Dawson, PJ DeBoy, and Jay Brannan spank, suck, lick and fuck in Shortbus. A leather-clad hairy dude dishes out some punishment to Octavi Pujades in Slam. In an amazing scene, Wes Ramsey and Terry Simpson get their slappy on in Latter Days. It's an army of butt-baring and ass-slapping in The Bachelor Weekend.
Looks like everyone is getting a little slap happy in Hollywood, and Mr. Man loves it!