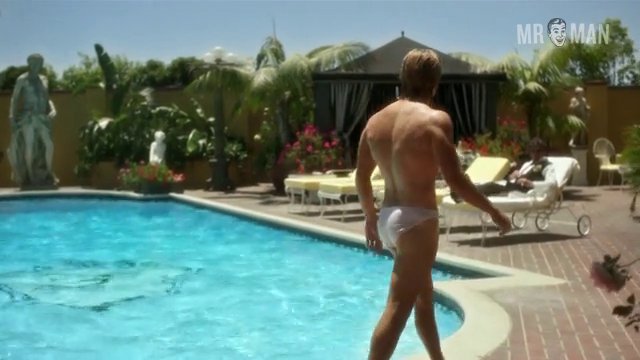 Description
Hot guys bulge out in tight swimwear
Okay, so they're not completely nude. But sometimes it's the tease that's greater than the please, especially if a Hollywood hunk is bulging out in a tight-fitting pair of Speedos. Let your imagination go wild as you check out this playlist Mr. Man has titled Speedo Splendor!
Poolside has never looked so sexy as Matt Damon struts around in his clingy swimwear in Behind the Candelabra. A day at the beach gives us a bulge-tastic look at Heath Ledger's rod in shorts in Two Hands. Bryan Cranston is breaking bad and sexy in his skimpy outfit in Seeing Other People. Camp Crystal Lake heats up when Kevin Bacon bares his Speedo-clad body in Friday the 13th. Abracadabra, make Adrien Brody appear in his barely-there briefs in Houdini. Alec Baldwin puts on a good show in some skimpy undies before meeting his maker in Married to the Mob. Mr. Man loves a dude in animal print, and Christopher Meloni makes out day in Harold and Kumar Go to White Castle. We thought Hank Azaria just did voice for The Simpsons. He's doing wonders for our fantasies during a scuba lesson in Along Came Polly, The angry reality chef shows he's got a soft and a hard side while wearing his swim trucks in Hotel Hell. Jerry O'Connell bulges out in his Speedo on an episode of We Are Men. Ignacio Serricchio heats up the pool in Bad Asses. A dude in red drives us crazy. A dude like Stephen Tobolowsky in a tight red Speedo on an episode of Californication really gets us going. Oz Zehavi emerges from the pool with his boys bustin' out of his suit in Yossi. Poolboy hunk Adrian Gonzalez looks amazing in From Here on OUT. It's an underwater show from Bruce Barry in Patrick. Daniel Lapaine shows he's nothing short of perfection in Muriel's Wedding.
These Speedos studs will feed your fantasies!