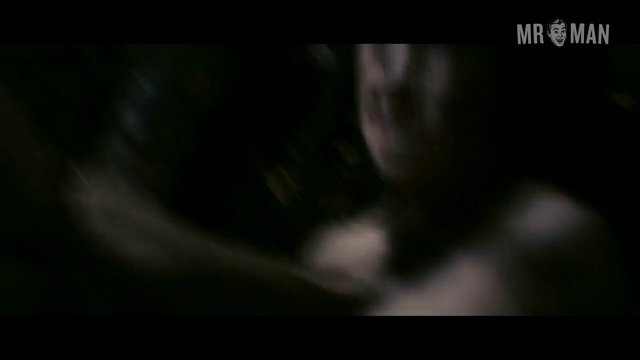 Description
The Handsome Hunks of Hollywood Horror Flicks!
With Halloween right around the corner, it's time to look past the blood and gore of horror films and get a good look at some skin. Yeah, horror films bring the scares and chills, but they also provide us with some of the hottest celebrity hunks showing off their buff bodies. There are no tricks, but there are plenty of treats in this playlist of hunks in horror films.
It's an all-out peen-baring show from Alexander Skarsgård on an episode of True Blood. Even Christian Bale has to take time during the banging of two chicks to admire his fine physique in American Psycho. Willem Dafoe bares his butt and teams up with penis-double Horst Baron to give us a show while banging his babe in the shower in Antichrist. Thankfully Dylan McDermott sleeps in the nude, because a sleepwalking episode provides us a look at his rump on an episode of American Horror Story. It's a completely nude show as Malcolm McDowell crawls to the bathroom in Cat People. The remake of Psycho might've ruffled a lot of feathers, but Viggo Mortensen soothed those critics by briefly showing his ass while getting out of bed. Too bad there wasn't a shower scene with him! Jean-Christophe Brétigniere doesn't leave anything to the imagination when he shows ass and dick in Rats: Night of Terror. Get ready from some butt and pubes from Michael Shannon in Bug. We get two hunks and hind ends for the price of one during a steamy scene in Embrace of the Vampire. Rupert Everett bares his ample package in Cemetery Man. It's an all-points nude show from Sam Neill as he babbles with a lady in the hallway in Possession. Kevin Bacon sure knows how to fill out a Speedo in Friday the 13th. Tom Everett Scott wakes up in the graveyard to give us a look at his butt in An American Werewolf in Paris. It's prosthetic but it's fantastic when Jean-Luc Bilodeau in Piranha 3DD. Altered States gives us a look at William Hurt in a nude state. Ted Sorel bares buns in From Beyond. The DVD extra section of The Texas Chainsaw Massacre provides us with a fully nude look at Eric Balfour. It's a tough scene, but get an eyeful of Yavor Baharov's fine behind in I Spit on Your Grave 2. Before the bathtub turns lethal Paul Young, provides some crack and dink in Patrick.
Who knew horror films could excite and fright!