Want FREE Access to Jupiter Ascending? Enter an e-mail address, create a password, start watching!
Jupiter Ascending nude-scenes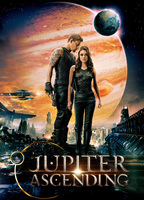 Nudity Rating: Brief Nudity
Genres: action, adventure, fantasy
Country: USA
Theatrical Release: 02/06/2015
Home Release: 06/02/2015
Directors: Andy Wachowski, Lana Wachowski
MPAA Rating: PG-13
Runtime: 125 Minutes
The sci-fi epic Jupiter Ascending (2015) comes to us from The Wachowskis, the creators of The Matrix (1999). Mila Kunis stars as Jupiter Jones, a mild mannered maid who is believed to be the reincarnation of a queen who once ruled the universe. With the help of the exiled warrior Caine Wise (Channing Tatum), she must now navigate a precarious political situation where the queen's children are fighting for control of the... See full review
View All
Other titles similar to "Jupiter Ascending"