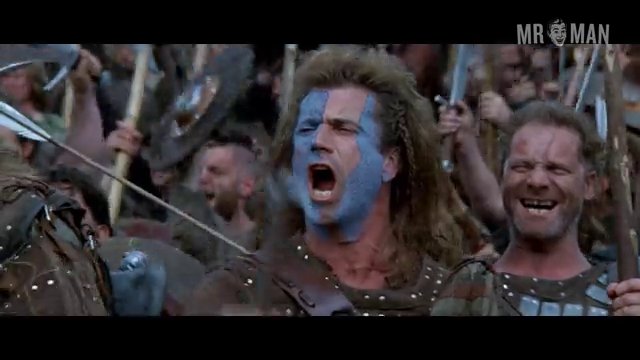 Description
Let us not skirt around the issue, real men do wear skirts.
Okay, snicker all you want, but a real man isn't really a man unless he can get in touch with his feminine side. Yeah, we like our men hard, but we also like a softer side. Nothing is sexier than a guy who can pull off wearing a skirt, and we think you'll agree after you watch this playlist showcasing the best scenes of dudes wearing skirts.
Battle-ready and beefy, Mel Gibson lifts up his kilt to bare his muscular butt in Braveheart. The bedroom heats up when Colin Farrell loses his skirt to bang his babe in Alexander. The always sexy Brad Pitt shucks his skirt to bare his amazing body and his clean-shaven pubic region in Troy. Sean Connery briefly bares butt as his skirt flies up when he jumps from a tree in Robin and Marian. Liam Neeson goes full frontal when he sheds his kilt and goes for a dip in Rob Roy. Malcolm McDowell reveals his rump in Caligula. Graham Chapman shows complete nudity in Life of Brian. Tad Hilgenbrinck multi-tasks by playing the bagpipes and mooning the audience in American Pie Presents Band Camp. Billy Connolly and Gerard Butler team up to show off complete nudity while going for a dip in Mrs Brown. Junade Khan and T.J Hoban heat things up in an episode of From Here on OUT. Grégory Basso abs out while wearing his battle gear in an episode of Metal Hurlant Chronicles. It's Colin Farrell again swapping a same-sex kiss in Alexander. Mel Gibson wows us with his ab-mazing physique while hooking up with his wife in Braveheart. Eric Bana is shirtless and hunky while holding a baby in Troy. Charles Halford wears a long towel while showing off his tattoo-covered physique in an episode of True Detective.
These hunks in skirts are quite the catch. I wonder how Mr. Man would look wearing a skirt? Hmmm….