Want FREE Access to The Dilemma? Enter an e-mail address, create a password, start watching!
The Dilemma nude-scenes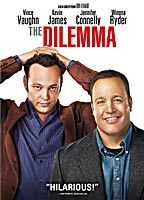 Nudity Rating: Brief Nudity
Genres: comedy, drama
Country: USA
Theatrical Release: 01/14/2011
DVD Release: 05/03/2011
Theatrical Release: 01/13/2011
Director: Ron Howard
MPAA Rating: PG-13
Runtime: 111 Minutes
A dude wrestles with his conscience- and a beefy boy toy named Zip- in the bro-mantic comedy The Dilemma (2011). Ronny (Vince Vaughn) has been best friends with Nick (Kevin James) since college, and now they're planning to start their own business with Nick's wife Geneva (Winona Ryder) and Ronny's girlfriend Beth (Jennifer Connelly) by their sides. But when Ronny accidentally discovers Geneva's... See full review
View All
Other titles similar to "The Dilemma"