Want FREE Access to Unbreakable? Enter an e-mail address, create a password, start watching!
Unbreakable nude-scenes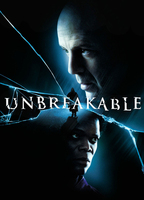 Nudity Rating: No Nudity
Genres: drama, mystery, sci-fi, thriller
Country: USA
Theatrical Release: 11/22/2000
Home Release: 06/26/2001
Director: M. Night Shyamalan
MPAA Rating: PG-13
Runtime: 106 Minutes
Reuniting with writer/director, M. Night Shyamalan, Bruce Willis is cast as a security guard who has a secret that even he is unaware of.  Never sick, never tired, and with psychic premonitions of violence, David Dunn (Willis) discovers he is unbreakable after being a lone survivor of a train crash, killing 131 people.  He literally can not be hurt. With his new knowledge of his abilities, and at the encouragement of... See full review
View All
Other titles similar to "Unbreakable"