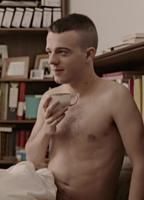 Keywords: Great Nudity!
Nude Roles: 1
Birthplace: Madrid, Community of Madrid, ES
Date of Birth: 07/21/86
Biography
Fernando Tielve is one tight-bodied Spaniard. This sexy little twink is mostly big eyes which are his most defining feature. He has large dark eyes that feel like they take over most of his face. Fernando is foxy as hell and when you see him onscreen you'll likely wonder where he's been all your life. The answer is Madrid. He hails from Madrid, the capital of his home country, where he resides and continues acting in all kinds of European films. Fernando began his career as a child starring as Carlos in The Devil's Backbone (2001). From there he continued acting in Spanish language projects like Pan's Labyrinth (2006), Imagining Argentina (2003), Rage (2009), Goya's Ghosts (2006), and the series The Boarding School (2007) where he played Cayetano. As an adult, his career has been unstoppable. The former child star is now a full-grown man and he is willing to do anything to prove that to us...and we mean anything. He stars as he leading man in Lose Your Head (2013) where he played Luis. He played a Spanish tourist who goes to Berlin to party and it's there that he has sex with a German man who is a total strange to him. Fernando doesn't act like a stranger to us. He takes off all of his clothes and shows us his cock when he gets out of bed naked. Watch his ass when he walks around the German stranger's house and inspects his things. You'll be inspecting his ass! 
Filmography
00:49:38

Fernando Tielve and Marko Mandić have sweet, sweaty sex that shows both of their booties. (1 min 43 secs)
00:52:18

Marko Mandić is fully naked, showing his cock when he walks in on an equally naked Fernando Tielve going through his things. (2 mins 3 secs)
00:14:07

Fernando Tielve gets down to his butt in this straight sex scene where the girl gives him a blowjob. (54 secs)
00:27:01

Fernando Tielve is fully naked from head to cock. Look at that dick and balls as he presents himself to a clothed man. (22 secs)
00:48:22

Marko Mandić shows his butt in this hot gay scene with Fernando Tielve. (1 min 14 secs)
00:56:09

Marko Mandić cuddles Fernando Tielve tightly in bed. (21 secs)
00:57:17

Fernando Tielve sits up naked in bed to show his cock and balls. (59 secs)