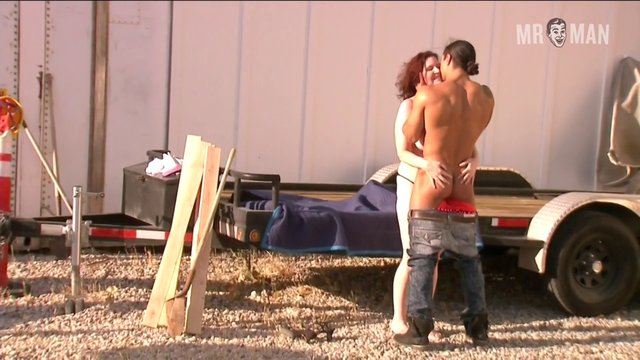 Description
The best of public balls, butt, chest, penis and all around nude scenes.
Getting buff in public is pretty ballsy. There's just something exciting to see a dude shuck his clothes and let the fresh air and sunlight touch every inch of his body. If seeing a man in the nude in public is your thing, Mr. Man has carefully pieced together a playlist full of scenes with guys going natural in nature.
Jude Law gives a fully nude performance while stalking through the woods in Dom Hemingway. Seann William Scott bares butt as he takes a leak in Role Models. John White and Steve Talley go butts out while going for a naughty jog in American Pie Presents The Naked Mile. Emile Hirsch hits the stage with a full view of his schlong in Taking Woodstock. Nick Hawk shows it all while sunbathing on an episode of Gigolos. Jarrod Pistilli does some numchuck training in the buff in Buck Wild. John C. McGinley flaunts his abs and butt in Wild Hogs. Kim Stuart Rossi teases some butt crack as he goes nude for his art in Those Happy Years. Chris Rock falls from the sky, ass up, in Dogma. Lars Rudolph shows it all as he walks through the woods in Gold. Arnold Schwarzenegger is amazingly naked in The Terminator. Christophe Paou and Pierre Deladonchamps heat up a nude beach with their peens in Stranger by the Lake. Michael Biehn wakes up with his ass out in The Terminator. Antonio Banderos exposes his backside in And Starring Pancho Villa as Himself. Randy Becker and John Benjamin Hickey are completely nude, skinny-dipping at the lake in Love! Valour! Compassion! Jason Alexander goes butt out while John Benjamin Hickey gets completely nude in Love! Valour! Compassion! Eric Stoltz flaunts his peen and red pubes on the beach in Naked in New York. Jay Mohr moons his neighbor in The Groomsmen. Richard Harris's rod bounces about as he runs from his capturers in A Man Called Horse. Pierce Brosnan enjoys a skinny-dip in the lake in Grey Owl.
Nothing like going nude in the outdoors! Hope you skinjoyed!