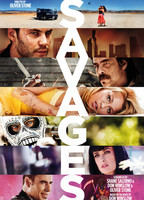 Director:

Oliver Stone

MPAA Rating:

R

Runtime:

131 Minutes

Theatrical Release:

07/06/2012

Home Release:

11/13/2012

Country:

USA

1 Blog Post for this Title >>
Best friends Chon (Taylor Kitsch) and Ben (Aaron Taylor-Johnson) share everything; including joint stakes in a primo pot operation and bedroom privileges with their shared girlfriend, O (Blake Lively). But when ruthless drug queenpin, Elena (Salma Hayek), kidnaps O to blackmail them into a business partnership, the guys decide to take on the Mexican mafia instead.
And when we say Taylor Kitsch and Aaron Taylor-Johnson share everything, we mean "bare" everything.  From Taylor giving us his...
Join Mr. Man for the full Review >>
Titles similar to Savages