Want FREE Access to Teachers? Enter an e-mail address, create a password, start watching!
Teachers men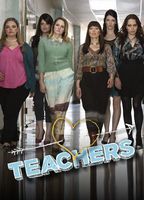 Nudity Rating: No Nudity
Genre: comedy
Country: USA
Network: TV Land
Runtime: 30 Minutes
Premier Date: 01/13/2016
Based on the webseries of the same name, TV Land's Teachers is the fully produced half-hour version of the critically acclaimed webseries. It stars members of the former Chicago improve troupe The Katydids, so-named because each member's first name was some form of Kate/Cate. Caitlin Barlow, Katy Colloton, Cate Freedman, Kate Lambert, Katie O'Brien, and Kathryn Renée Thomas round out the cast of... See full review
View All
Other titles similar to "Teachers"