Want FREE Access to The Magicians? Enter an e-mail address, create a password, start watching!
The Magicians nude-scenes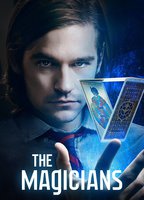 Nudity Rating: Brief Nudity
Genres: drama, fantasy, horror
Country: USA
Network: Syfy
Runtime: 60 Minutes
Premier Date: 12/16/2015
Based on Lev Grossman's bestselling fantasy novel of the same name, SyFy's hit series The Magicians follows the story of Quentin Coldwater (played by Jason Ralph), who discovers that the magical world that he's heard about all his life and read about in novels is actually real, and he sets about to learn how to use it. He soon realizes that he needs to use his abilities to save his world and all of the people... See full review
Nude

sexy, shirtless, gay, butt

Sexy

sexy, shirtless, underwear, gay

Sexy

sexy, shirtless, straight, underwear

Sexy

gay, sexy, shirtless
View All
Other titles similar to "The Magicians"