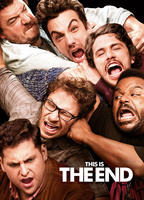 Directors:

Seth Rogen, Evan Goldberg

MPAA Rating:

R

Runtime:

107 Minutes

AKA:

The End of the World

Theatrical Release:

06/12/2013

Country:

USA

1 Blog Post for this Title >>
A party full of celebrities comes face-to-face with the apocalypse in This Is the End (2013). Jonah Hill, Seth Rogen, Jay Baruchel, Danny McBride, Craig Robinson and Michael Cera (all starring as themselves) hear there's an awesome party going on over at James Franco's house, but as soon as they arrive, they and all the other stars in attendance (including Rihanna and Emma Watson) are faced with an event of apocalyptic proportions. No, seriously. It's the end of the world. But luckily, before...
Join Mr. Man for the full Review >>
Titles similar to This Is the End