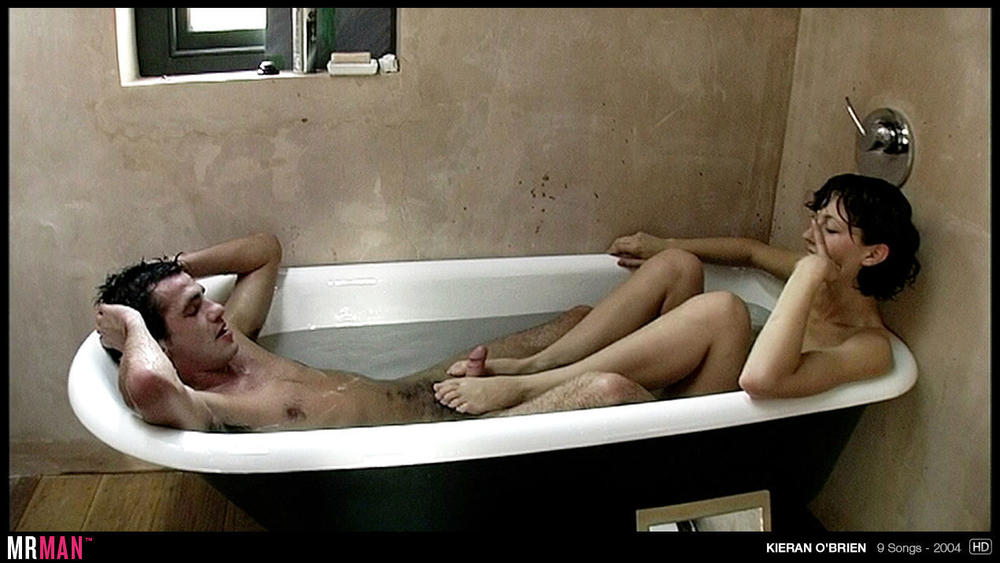 Throughout cinema history, there have been some iconic nude scenes that have transcended the bounds of the films in which they appeared. Our weekly column Anatomy of a Scene's Manatomy will take an in-depth look at these scenes, their history, their deeper meanings, and their legacy. This week, the 2004 flick 9 Songs combines the popular music of the day with unsimulated sex scenes!
British director Michael Winterbottom has courted controversy throughout his career, often by doing things other directors wouldn't dream of doing. He adapted the legendarily un-filmable novel Tristram Shandy by turning it into a mockumentary about pompous people attempting to adapt the book. He has directed multiple films about the plight of refugees, made a film about pornographer Paul Raymond, and even turned the notion of two guys eating fancy food and doing Michael Caine impressions into a franchise with The Trip films.
His boldest experiment, however, is his 2004 digitally shot film 9 Songs, which takes a very simple premise and gives it an edge that separates it from the pack. In broad strokes, the film tells the story of a couple's tumultuous love affair in which they share a love of live music, passionate sex, and not much else, before going their separate ways. Basically, it's a love story without any of the typical trappings of the genre. We don't really get to know the characters, there's very little dialogue, and it mostly contains all of the scenes that would be left on the cutting room floor of your typical mainstream love story. 
Matt (Kieran O'Brien) is a British climatologist and Lisa (Margo Stilley) is an American exchange student who meet and fall for one another, bonding over their mutual love of attending concerts. They're also quite compatible sexually, with these two things being really the only two things we know about them as a couple. The film is divided neatly into 18 portions, 9 songs and 9 sex scenes. The titular songs are performed live during the film and are comprised of "Whatever Happened to My Rock and Roll" by Black Rebel Motorcycle Club, "C'mon, C'mon" by The Von Bondies, "Fallen Angel" by Elbow, "Movin' on Up" by Primal Scream, "You Were the Last High" by The Dandy Warhols, "Slow Life" by Super Furry Animals, "Jacqueline" by Franz Ferdinand, "Debbie" by Michael Nyman, and "Love Burns" also by Black Rebel Motorcycle Club. 
The sex scenes are also, obviously, performed live by O'Brien and Stilley. Winterbottom proved to be quite considerate of his actors' needs and when shooting the sex scenes, the only people on the closed set were him, his two actors, the cinematographer, and sound recorder. He also specifically asked his actors not to be involved in each other's lives off camera because he didn't want to create any sort of real intimacy between them as people that would interfere with whatever intimacy he needed them to portray as their characters.
All nine of the film's sex scenes are achingly intimate, often depicting things not seen in a mainstream film. Yes, that includes all of the obvious stuff like penetration and ejaculation, but there aren't many foot jobs shown on film outside of this one. It helps to create a true intimacy on film, a sense that you're witnessing something you're probably not supposed to be seeing...
As for casting Kieran O'Brien, Winterbottom had seen the actor's prior nude scenes in the films Virtual Sexuality and Burn It, so he knew the actor was both well-endowed and obviously unashamed to show himself on film. O'Brien's co-star Margo Stilley asked Winterbottom to only refer to her by her character's name, Lisa, when promoting the film, hoping to maintain that distance from her character she had established on set. O'Brien, on the other hand, held no such illusions and proudly promoted the film. 
It beat another 2004 film with explicit sex—Vincent Gallo's The Brown Bunny—to theaters by about four months, but that's a movie with a blowjob in it, rather than a movie about explicit sexuality. It did, however, help to create a market in which censorship boards could more readily make the distinction between art and pornography—that is, outside of the puritanical US where both films were released unrated. In France, 9 Songs became the first sexually explicit film to not be given the X certification reserved for pornography and extremely violent films. In the UK, it likewise became the first film with explicit sexuality to earn the still mainstream 18 certificate, while in Ireland, it became the first film ever released theatrically to feature ejaculation on screen.
Whether or not you think 9 Songs is a "good" movie is almost irrelevant. Yes, it's flimsy and thin as Winterbottom deliberately stripped away all of the things that might have given the film substance. Perhaps, that stuff all put together is enough substance for a film, though, so it's difficult to say that the film doesn't have worth. It obviously has quite a bit of worth here at Mr. Man and we're only considering roughly half of the film's content. 
Catch up with our other editions of Anatomy of a Scene's Manatomy...
—Two of History's Manliest Men Wrestle Naked in Women in Love
—Ewan McGregor Has Got It, Flaunts It in Velvet Goldmine
—A Pair of Stars are Born in Y Tu Mamá También
—Harvey Keitel Goes Hog Wild in Abel Ferrara's Bad Lieutenant
—Viggo Mortensen is Naked From Every Imaginable Angle in Eastern Promises
—There's No Shame is Michael Fassbender's Dick Game
—Kevin Bacon Steals the Show Going Full Frontal in Wild Things
—How We Met Jason Segel's Dick in Forgetting Sarah Marshall
—Jack Reynor is Uniquely Vulnerable for a Man in Midsommar
—Jaye Davidson Knows All There is to Know About The Crying Game
—David Bowie Battles Rip Torn for Dick Supremacy in The Man Who Fell to Earth
—Al Pacino Doesn't Get In All That Deep for William Friedkin's Cruising
—John Cameron Mitchell's Ass Gives Hedwig and the Angry Inch the Perfect Ending
—Ross Lynch Makes One Sexy Future Serial Killer in My Friend Dahmer
—Rocketman Not-So-Boldly Goes Where Bohemian Rhapsody Refused
—Color of Night Brings Us the Return of Bruno's Dick
—Robert De Niro and Gerard Depardieu Get Serviced in Bertolucci's 1900
—Future Oscar Winner Mark Rylance Gets Real and Really Nude in Intimacy
—Louis Garrel Lets It All Hang Out in the French New Wave Biopic Godard Mon Amour
—Bronson Makes Tom Hardy and His Uncut Cock a Star
—Henry & June Ushers in the NC-17 Rating with a Distinct Lack of Parity in Nudity
—The Gay Cowboys of Brokeback Mountain Do More Than Eat Pudding
—Pretty Boy Eddie Redmayne Makes One Very Pretty Danish Girl
—Tom Cruise's Dick Has All the Right Moves
—Christopher Atkins Rises Above the Curly Blonde Pack in The Blue Lagoon
—A Pre-Fame Sylvester Stallone Shows Us His Italian Stallion