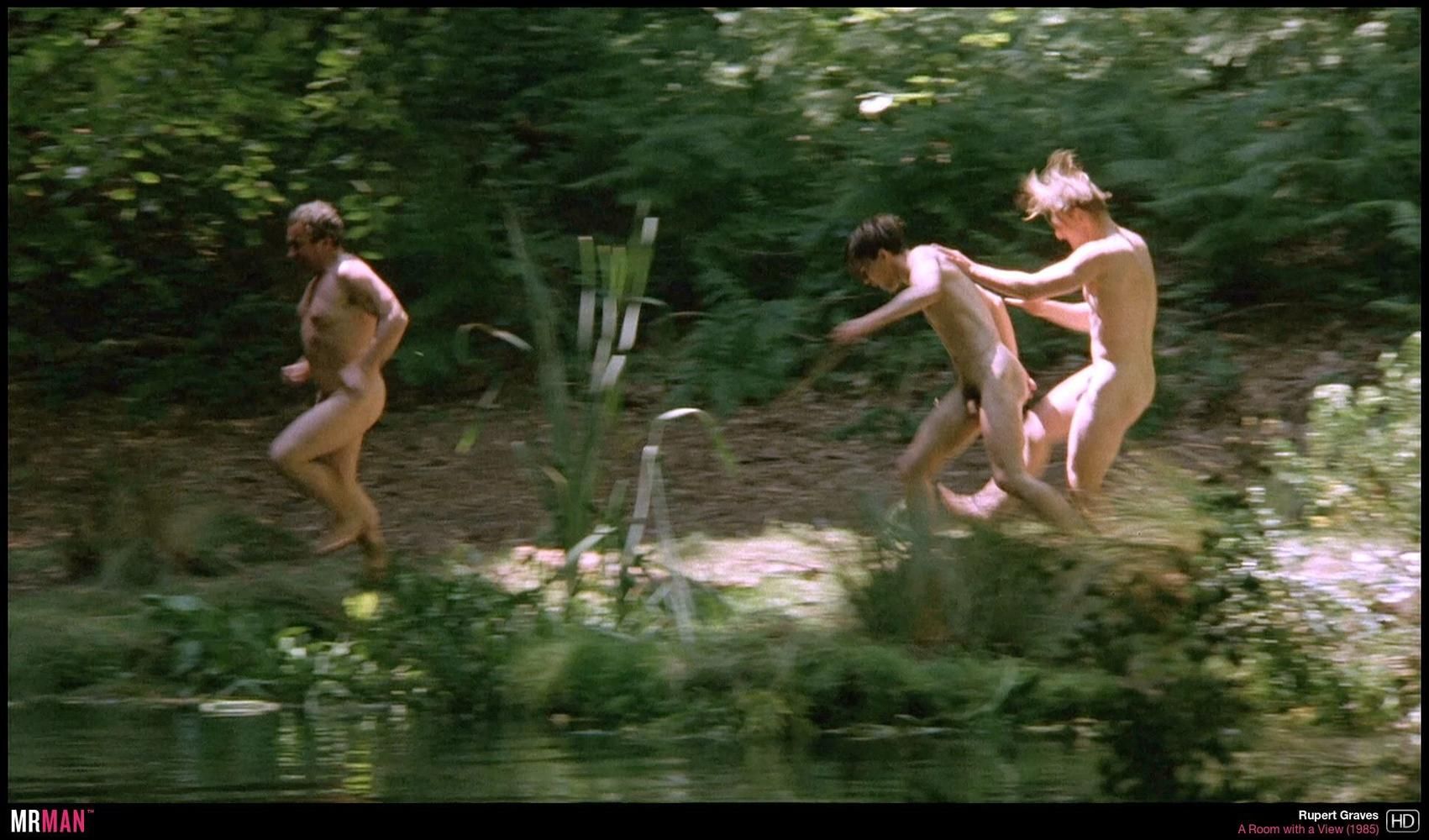 Throughout cinema history, there have been some iconic nude scenes that have transcended the bounds of the films in which they appeared. Our weekly column Anatomy of a Scene's Manatomy will take an in-depth look at these scenes, their history, their deeper meanings, and their legacy. This week, out director James Ivory's Oscar-winning adaptation of A Room with a View proves that costume dramas aren't just for tea-sipping grandmas. 
A bona-fide living American legend, director James Ivory celebrated his 92nd birthday in June, making him one of our most treasured writer/directors. Born in Berkeley, California, but raised in Oregon, Ivory has been making films since the early 1950s, and has earned a reputation as a consummate professional with a keen eye for detail that helped him stand apart from his peers. While it's fair to say that Ivory's films aren't for everyone, they provided the more intellectual moviegoers with their own form of visual pornography. He made films that lingered in immaculately ornate interiors or lush outdoor settings, often populated with highly respected actors in sumptuously designed costumes. 
Ivory spent most of his career working with his professional and personal partner, Ismail Merchant, and their partnership under the Merchant Ivory Productions banner yielded 40 feature films over a 44 year span. The Merchant Ivory label was a mark of quality in cinema for decades, indicating that no matter the film or subject matter, the production values would be extremely high. The pair often worked with Oscar-winning screenwriter Ruth Prawer Jhabvala, who penned the screenplays for over 20 Merchant Ivory Productions, forming a high-minded trio whose work set the gold standard for period costume dramas.
Their big breakthrough came with the release of 1986's A Room With a View, one of the first art-house hits of its kind and the beginning of a trend for Merchant Ivory to adapt famous works of literature set in the 19th and early 20th centuries. The film earned 8 Oscar nominations, including Ivory's first of three Best Director noms, and won 3 awards for its costume design, art direction, and for Prawer Jhabvala's script. It was also the first of two consecutive adaptations of E.M. Forster with Maurice coming from the same team in 1987, and a further two consecutive adaptations with Howard's End in 1992 and The Remains of the Day in 1993. 
It also came a year after Oscar winner David Lean brought A Passage to India to the screen, making Forster the hottest author in town a full eight decades after the height of his relevance. The film is the perfect sort-of posh high society romance story that women have fawned over for years, and Ivory knew that you've got to give the women what they want. While he wouldn't concoct a sex scene to fit the narrative, a scene where three of the male leads frolic together naked in the woods was the perfect way to inject some male nudity into the film in a completely sexless context.
In other words, the scene couldn't possibly be considered indecent, but would still serve a purpose to arouse many of those women and the gay men in the audience. Ivory was incredibly savvy in this regard, having pulled similar tricks in other films, backdooring male nudity into the film, often just to balance out the female nudity. To very crudely sum up the plot to this point, Julian Sands' George is a well-off but not rich philosopher and poet who is madly in love with Lucy (Helena Bonham Carter), whose mother intends to wed her off to the incredibly wealthy but snobbish Cecil (Daniel Day-Lewis). George and Lucy share passionate kisses, but not much more than some pearl-clutching in terms of action. 
George becomes friends with Lucy's brother Freddy (Rupert Graves), ostensibly as a way of being nearer to Lucy, but the subtext would lead many proto-'shippers to imagine the two were really just trying to get close to one another. They are also friends with The Reverend Beebe (Simon Callow of Amadeus and Four Weddings and a Funeral), and just past the one hour mark, Freddy, George, and The Reverend head down to the swimming hole. With the ladies nowhere to be found, they let their freak flags fly and strip nude for some horseplay...
While these are all straight-identifying characters within the story, this is one of the most homoerotically charged scenes since Ken Russell's Women in Love found Oliver Reed and Alan Bates wrestling nude by the fire after their female companions have gone off to bed. Make no mistake, E.M. Forster is no D.H. Lawrence in terms of homoerotic content, but his later work began to verge in that direction. By all accounts, Forster struggled with his own queerness, so it certainly manifested in some of his work—the aforementioned Maurice being another example.
It's hard to know what Forster thought of this particular relationship between George and Freddy because he didn't explicitly state anything. Screenwriter Prawer-Jhabvala and director Ivory certainly read the subtext this way and the scene is truly a three-and-a-half minute gift to lovers of the naked male body. It's nice to know that people of all ages could go to the movies in 1986 under the guise of seeing a prestige period costume romance and find their fancies tickled in this way. 
Catch up with our other editions of Anatomy of a Scene's Manatomy...
—Two of History's Manliest Men Wrestle Naked in Women in Love
—Ewan McGregor Has Got It, Flaunts It in Velvet Goldmine
—A Pair of Stars are Born in Y Tu Mamá También
—Harvey Keitel Goes Hog Wild in Abel Ferrara's Bad Lieutenant
—Viggo Mortensen is Naked From Every Imaginable Angle in Eastern Promises
—There's No Shame is Michael Fassbender's Dick Game
—Kevin Bacon Steals the Show Going Full Frontal in Wild Things
—How We Met Jason Segel's Dick in Forgetting Sarah Marshall
—Jack Reynor is Uniquely Vulnerable for a Man in Midsommar
—Jaye Davidson Knows All There is to Know About The Crying Game
—David Bowie Battles Rip Torn for Dick Supremacy in The Man Who Fell to Earth
—Al Pacino Doesn't Get In All That Deep for William Friedkin's Cruising
—John Cameron Mitchell's Ass Gives Hedwig and the Angry Inch the Perfect Ending
—Ross Lynch Makes One Sexy Future Serial Killer in My Friend Dahmer
—Rocketman Not-So-Boldly Goes Where Bohemian Rhapsody Refused
—Color of Night Brings Us the Return of Bruno's Dick
—Robert De Niro and Gerard Depardieu Get Serviced in Bertolucci's 1900
—Future Oscar Winner Mark Rylance Gets Real and Really Nude in Intimacy
—Louis Garrel Lets It All Hang Out in the French New Wave Biopic Godard Mon Amour
—Bronson Makes Tom Hardy and His Uncut Cock a Star
—Henry & June Ushers in the NC-17 Rating with a Distinct Lack of Parity in Nudity
—The Gay Cowboys of Brokeback Mountain Do More Than Eat Pudding
—Pretty Boy Eddie Redmayne Makes One Very Pretty Danish Girl
—Tom Cruise's Dick Has All the Right Moves
—Christopher Atkins Rises Above the Curly Blonde Pack in The Blue Lagoon
—A Pre-Fame Sylvester Stallone Shows Us His Italian Stallion
—9 Songs Combines Real Music with Real Sex
—Willem Dafoe Gets a Hardcore Assist in Lars von Trier's Antichrist