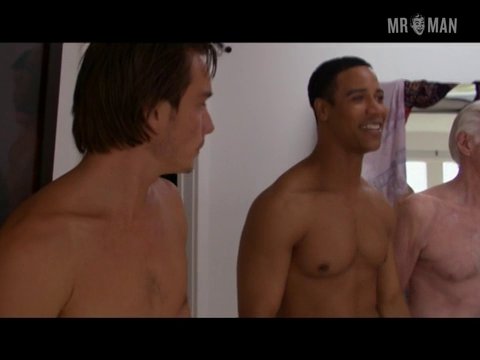 Description
It's kind of humiliating, embarrassing and a bit sexy when a chick is completely clothed while a dude is completely nude. There's something incredible hot about that clothed/unclothed scenario, and we appreciate the fact that many of you are turned on by this sight, even with a woman in the picture. Have fun checking out these film clips involving clothed females and nude males. Skinjoy!
Jason Segel drops his towel and shakes his wank in front of his girl in Forgetting Sarah Marshall. In the hilarious comedy Zack and Miri Make a Porno, Jason Mewes drops his pants in public. Luke Wilson (and his body double) flaunts his business during a business meeting in My Super Ex-Girlfriend. Funny man Hank Azaria heats up the island in Along Came Polly. Daniel Craig is completely nude during a public art display. Ewan McGregor shows off on stage in the crazy flick Velvet Goldmine. Jsu Garcia and Wesley Snipes show off in the locker room in Wildcats. Steven Paul Hirschfield wakes up nude next to some chicks in their robes in Sexual Magic. Antonio Banderas gets completely nude during a steamy love scene in Of Love and Shadows. Good Luck Chuck gives us a good look at Dane Cook's rump as he begs for help from his lady. Confessions of a Dangerous Mind gives us a look at Sam Rockwell's rump while pillaging the frig and freaking out a hotel bellboy. Bill Paxton gets his fun interrupted by a crank caller. Xavier Samuel goes in the buff while making time with his lady in Adore. Ashton Kutcher racks up some points in Spread. Brady Corbet gets a thumb's up in Simon Killer. Michael Cera is without pants while he receives some lovin' from two chicks in This is the End. True Blood babe Alexander Skarsgård flaunts his butt and body while his girlie keeps her dress on. Sullivan Stapleton pulls down his pants on a plane and injects himself with a needle in Strike Back. Lie with Me gives us a look at Eric Balfour's dink before getting some head. Wesley Snipes wows in Disappearing Acts. Grant Bowler flashes some ass during some backseat banging in Outrageous Fortune. Javier Bardem and Tomás Martín bullfight in the nude in Jamon, Jamon. Elliott Tittensor shows off his goods to his lady on the boob tube hit Shameless. Austin Butler shows off his model physique on The Carrie Diaries. Thierre Di Castro is completely nude in Shameless. It's all butt from Evan Peters in American Horror Story. Plush gives us a bit of butt from Xavier Samuel. Joshua Harto gets his boxers yanked down by his girlfriend in The Lifeguard.
Okay, so the chicks have their clothes on while the dudes get nude. That's all that matters, right? None of those actors in those clips should feel embarrassed because they all have it going on when they take it off!