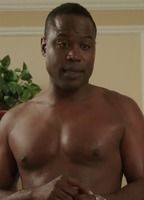 Keywords: No Nudity, Black, Black Hair
Birthplace: San Diego , California, US
Date of Birth: 12/09/76
Real Name: Kevin Dwight Daniels Jr.
Top Scenes
Ep. 01x03 | 00:27:00

Kevin Bigley rocks out in his boxers and white t-shirt while Michael Mosley and Kevin Daniels lose their shirts in the locker room. (7 secs)
advertisement
Biography
San Diego sweetheart Kevin Daniels looks like he just popped off of the cover of a men's fashion magazine and on to the boob tube. Mr. Man loves a hunky dude with a sexy voice, and Kevin flexed his vocal muscles, providing his voice on the hit MTV animated series Daria. The man behind the voice finally appeared in guest roles on television shows like Deadline, Third Watch, Buffy the Vampire Slayer, Smallville and 100 Questions. We know, you guys have one question—has Kevin flashed any flesh in his career? Our answer? So far Kevin has only stripped down to his undies, baring his sexy chest on the USA Network comedy series Sirens. We have our eyes on high alert, so if this tall chunk of chocolate shows us more skin, we'll sound our skin sirens so the whole world will know. We're waiting, Kev! While the wait is excruciating, Mr. Man is still thrilled to see Kevin's showbiz career still going strong. So strong, in fact, that you can comfortably placate your loins by watching any number of his other hot (albeit clothed) roles on the boob tube or silver screen. See him in TV series such as AJ and the Queen, Council of Dads, Coop and Cami Ask the World, United States of AI, Atypical, 10 Days, and The Big Leap. You can also see him in flicks like California No (2020), aTypical Wednesday (2020), Untitled Horror Movie (2021), Shelter in Place (2021), and Not Another Church Movie (2023). We're fine with church movies, as long as Kevin will agree to sin later!