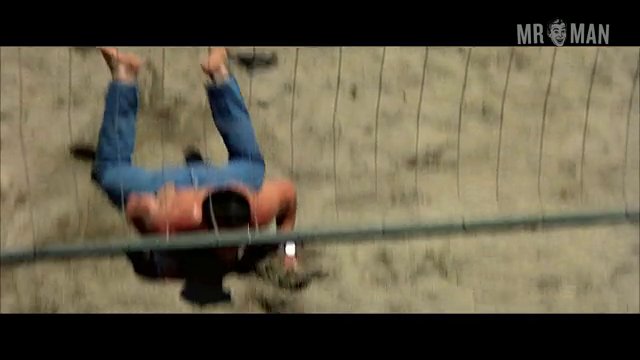 Description
Playin with the boys!
Mr. Man loves a man in uniform and he knows you love 'em too. With Armed Forces Day this weekend, we thought we'd put a spotlight on hot celebrities hunks in military minded films.
It's a trifecta of shirtless hotness when Tom Cruise, Val Kilmer, and Rick Rossovich hit the beach to play volleyball in Top Gun. Christmas gets hotter when Jake Gyllenhaal strips down to his X-mas-flavored thong in Jarhead. It's a hunk-a-thon when Matt Levin, Jake Busey, and Casper Van Dien show it all during a communal shower in Starship Troopers. Sylvester Stallone shows off his lean body and beautiful buns during a hose down in Rambo. Robert De Niro strips down and goes for a penis-baring run in The Deer Hunter. The Muscles from Brussels, Jean-Claude Van Damme flaunts his flanks in Universal Soldier. Josh Kelly hits the showers to show his buns in Jarhead 2: Field of Fire. In an odd scene, Russ Russo wows us with his rump while he humps the couch in An Act of War. It's a tush tease from Matt Battaglia in Universal Soldier II: Brothers in Arms. Following in Battaglia's nude footsteps, Jeff Wincott shows his ass in Universal Soldier II: Brothers in Arms. Mike "The Miz" Mizanin scrubs up his buff body in The Marine 4: Moving Target. It's two for the price of one when Evan Jones teases tail and Jake Gyllenhaal shows off his shirtlessness in the shower in Jarhead. Finally, Tom Cruise strips to his underwear to shave in the bathroom.
These hunks will have you standing at attention!