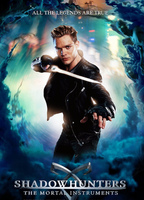 Runtime:

42 Minutes

AKA:

Shadowhunters: The Mortal Instruments

Premier Date:

01/12/2016

Network:

ABC Family

Country:

USA

1 Blog Post for this Title >>
What if one day you found out you weren't who or what you thought you were? In the adventure TV series Shadowhunters: the Mortal Instruments, we meet Clary (Katherine McNamara) an otherwise typical Brooklyn teenager who finds out she comes from a long line of Shadowkeepers which are humans with angel blood who fight demons. When Clary's mom is kidnapped she must put her power to work saving her mom and the world.
Jade Hassoune helps bring the sexy to this show when he relaxes in bed having a...
Join Mr. Man for the full Review >>