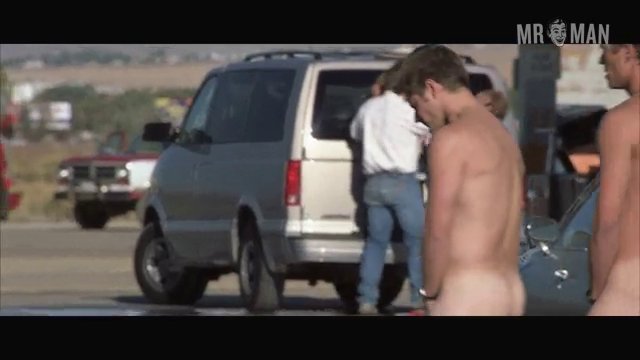 Description
Humiliated hunks lose face... and clothing!
Who doesn't like seeing a hunk simultaneously get nude and humiliated on the big screen or the boob tube? There's a certain sexual satisfaction we all get in their blushing moment of being in the buff at an unexpected or awkward moment. If you guys like seeing a sexy celebrity showing all-points nudity in butt-baring, penis-flapping scenes of embarrassment-inducing excitement, get ready to lose your pants as these guys lose face…and their clothing!
It's twice the buns when Paul Walker and Steve Zahn are forced to walk to a truck stop in the buff in Joy Ride. Taye Diggs and Richard T. Jones prove that it's always hose before bros in The Wood. In a very familiar scene for most, Zach Braff teases some cheekage while jerking off to porn in Wish I Was Here. Get a gander at Seth Rogen's butt-flashing moment of voyeuristic fornication in Neighbors. Freddie Prinze Jr. and a body double tease a thong shot in Summer Catch. Jason Biggs gets caught with his pants down in the kitchen in American Reunion. The streets of NYC get much hotter when Marlon Wayans wows us with his butt in Senseless. Michiel Huisman thrills an audience with his complete nude body in Phileine Says Sorry. James Garner, Donald Sutherland, Tommy Lee Jones, Clint Eastwood, and a couple of body doubles show ass during an exam in Space Cowboys. The airport is quickly heating up with Patrick Warburton brandishing his buns in Big Trouble. The infamous flick Salò o le 120 giornate di Sodoma gives us a look at some cock and balls from Sergio Fascetti and Franco Merli. Chad Faust follows orders and goes fully nude in Descent. Oliver Mommsen gets caught with his pants down in Tote Hose - Kann nicht, gibt's nicht. Jaime Bell makes with some ass next to a chick in Hallam Foe. Slam gives us a view of Iván Hermés butt when his lady gets frisky by the pool. Michael Welker makes with his backside when a dude undoes his toga in Drop Dead Fred. The hazing of Tyler Ross turns up some ass in The Killing. James Murray strips to his undies under the supervision of a gun-totting dude in Defiance. The classic scene in The Full Monty bombards us with a view of a bunch of dudes getting awkwardly close to nude.
We're sure you'll all agree that none of these guys have anything to be embarrassed about!