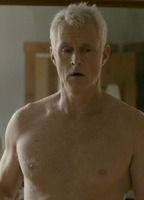 Keywords: Brief Nudity, White, Gray Hair
Nude Roles: 2
Birthplace: Boston, Massachusetts, US
Date of Birth: 08/13/62
Real Name: John M. Slattery Jr.
Top Scenes
Ep. 07x01 | 00:03:50

John wakes up after an orgy to talk to his daughter on the phone. He uses the phone to cover his good parts. (58 secs)
advertisement
Biography
You should always pick up the phone if John Slattery is in the room. And if you don't know what Mr. Man means, you'll want to check him out as Roger Sterling in Mad Men. For a whole 89 episodes, from the start of the series in 2007 to its end in 2015, this Bostonian native was the very definition of a silver fox. Flirty, sarcastic, and always up for a good romp, it's no surprise Roger found himself in more than one sexual situation, and John showed off more than just his white hair. In fact, there's one particular episode where he's post-coital and sits totally naked, nothing but a (you're getting it now, aren't you?) yes, telephone covering his man muscle. (Always. Pick up. The phone.). You can also see his bare bottom in season five, so there's that, too. If you never got into the award-winning AMC show, that's okay, too, because John has been in a whole lot of stuff. He fed our desire for a man in uniform when he portrayed Private Dylan Leeds on the war drama series Dirty Dozen: The Series in 1988, his first real on-screen role. You can see a younger version of his ass in the crazy drama movie Red Meat (1997), and a blurred version of his privates as Charlie Baird in TV's Veepin 2016. John's been in a ton of other stuff, too, including playing Iron Man's dad Howard Stark in the Marvel movies, and a bearded Paul LeBlanc in the FOX series Next in 2020. Oh, and here's a fun little twisty trivia bit. The woman who played his wife, Mona Sterling, on Mad Men? That's actress Talia Balsam—John's wife in real-life. She always picks up the phone.
Filmography
00:06:24

Mad Men's John Slattery shows major pubes and ass while hanging out in the locker room with the equally sexy Stephen Mailer! (1 min 54 secs)
00:13:48

John Slattery takes a bath before showing off his delish seat meat in only an apron! We love this movie! (30 secs)
00:57:09

John Slattery and Stephen Mailer show off their buns while walking around a dark house. (2 mins 55 secs)
TV Shows
Veep (2012-2017) - as Charlie Baird
Mad Men (2007-2015) - as Roger Sterling
Ep. 05x13 | 00:45:45

You'll go Mad with a look at John Slattery's tight ass as he peers out the window. (9 secs)