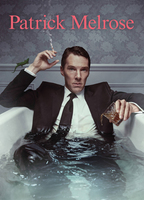 Patrick Melrose (2018 - )
Patrick Melrose (2018) is a miniseries based on the novels by Edward St. Aubyn about a rich man who has experienced a lot of trauma named Patrick Melrose (Benedict Cumberbatch). He recovers back home in Britain after having substance abuse problems in New York. 
Our leading man finally lets us see some of his goods. Benedict Cumberbatch is hot as sin when he sits in bed shirtless smoking a cigarette. He must've had a good time! We get to see a lot more of him when he slips into a bathtub...
Join Mr. Man for the full Review >>
Top Scenes
Celebs
Titles similar to Patrick Melrose