Want FREE Access to Impostor? Enter an e-mail address, create a password, start watching!
Impostor men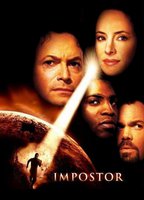 Nudity Rating: No Nudity
Genres: drama, mystery, sci-fi, thriller
Country: USA
Theatrical Release: 01/04/2002
Home Release: 07/09/2002
Director: Gary Fleder
MPAA Rating: R
Runtime: 95 Minutes
Based on the Phillip K. Dick short story, Imposter (2001) tells the story of a future Earth, at war with an alien race that uses androids that look like humans as bombs. Spencer (Gary Sinise) is a human who finds himself being mistook for an android. He has to fight for his freedom as he tries to convince people that he is in fact a human.
Gary Sinise hits the shower as the opening credits roll. We see him shirtless as he... See full review
View All
Other titles similar to "Impostor"