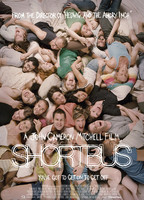 Director:

John Cameron Mitchell

MPAA Rating:

NR

Runtime:

101 Minutes

AKA:

The Sex Film Project

Theatrical Release:

10/06/2006

Home Release:

03/13/2007

Country:

USA

2 Blog Posts for this Title >>
Writer-director John Cameron Mitchell's follow-up to his cult transsexual epic Hedwig and the Angry Inch (2001) is an unrated, uninhibited examination of sexual daredevils exploring the outermost reaches of erotic possibilities. Shortbus (2006) chronicles the underground New York City club of the title, where clothes come off and bodies get close—regardless of size, shape, gender, or any other restrictions. Sook-Yin Lee plays a couples therapist who has never experienced an orgasm. Dealing...
Join Mr. Man for the full Review >>