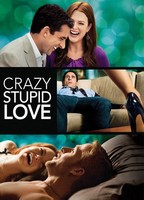 Crazy, Stupid, Love. (2011)
Directors:

Glenn Ficarra, John Requa

MPAA Rating:

PG-13

Runtime:

118 Minutes

AKA:

Love Again

Theatrical Release:

07/29/2011

Country:

USA
Infidelity and divorce turn a dream life into a nightmare in Crazy, Stupid, Love. (2011). Steve Carell co-stars as Cal Weaver, a fortysomething, average Joe living the perfect life. He has a great home, sweet kids, and he's married to his high school sweetheart, Emily (Julianne Moore). When Cal learns that his wife has been cheating on him and wants a divorce, his peaceful life quickly becomes chaotic. As the divorced dad attempts to re-enter the intimidating world of dating, he fails...
Join Mr. Man for the full Review >>
Top Scenes
Celebs
Titles similar to Crazy, Stupid, Love.