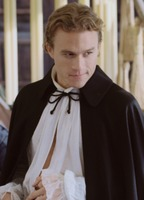 Keywords: Great Nudity!, White, Brown Hair
Nude Roles: 4
Birthplace: Perth, Western Australia, AU
Date of Birth: 04/04/79
Date of death: 01/22/08
Real Name: Heath Andrew Ledger
Top Scenes
00:24:08

Heath is toweling off straight out of the shower, luckily the dressing table mirror reflects the whole Ledger log. And that's no joker! (11 secs)
advertisement
Biography
Heath Ledger's brilliant career was cut short way too soon, but he left behind a legacy of amazing, award-winning work and some very Skinworthy scenes.
Early in his career the Aussie hunk starred in Two Hands (1999) where he goes for a swim in his underwear. He isn't nude, but he looks amazing soaking wet and this works as a prelude to the greatness that will soon come. Monster's Ball (2001) is best known for Halle Berry's nudity, but Heath holds his own as he pulls his pants down to reveal some beautiful butt cleavage while he bangs a prostitute from behind. It was Brokeback Mountain (2005) that shot Ledger's career into the stratosphere and shot a cupid's arrow through our nudity loving hearts. In this movie Ledger stars as Ennis, a cowboy who is in love with Jake Gyllenhaal. Ennis is not scared to show his penis as he gets naked, climbs up on a rock and jumps into some water. As he climbs his gives us a perfect view of his muscular rear then as he jumps we get a full frontal view including some bushage and a shot of the thunder down under as his junk flaps in the wind.
Shortly after Brokeback Mountain Ledger had a small, but memorable, part in I'm Not There (2007). In one of his scenes he gets out of the shower and dries off. The camera catches a close-up of his thick bush and uncut dong.
Sadly, Heath is no longer with us, but his body of work and his body in general leave us with fond memories of one of finest actors of his generation.