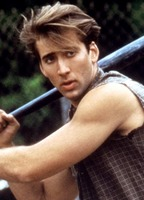 Keywords: Brief Nudity, White, Brown Hair
Nude Roles: 4
Birthplace: Long Beach, California, US
Date of Birth: 01/07/64
Real Name: Nicholas Kim Coppola
Top Scenes
01:34:26

See the compelling Nic Cage can as he steams up the shower. (24 secs)
advertisement
Biography
Nicolas Cage started his career off with a bang. In only his third role he won a part in the iconic Fast Times at Ridgemont High (1982) and he didn't look back from there. Nicolas is known for being fearless in the roles he takes. He will often skip a big budget movie to do something smaller that has more meaning to him. This attitude helped him win the Best Actor Oscar for his role in Leaving Las Vegas (1995) and it has also helped him be free enough to expose his entire body on screen. Zandalee (1991) has a brilliant shot of Cage walking into a kitchen fully nude where he has some very aggressive sex with his good looking co-star. Throughout the scene, there are plenty of shots of his athletic ass in action and there is a clear, if not somewhat quick, view of his willy and giggleberries. Cage brought the love stick out to play again in City of Angels (1998). As he gets into the shower his talented tush is in full frame then as he turns to the side it becomes very clear that Nicolas Cage is packing some serious heat down below as he goes full frontal. Nick went shirtless in a plethora of sex scenes for 1990's Wild at Heart, while he played the guitar in his underwear for 1996's The Rock. Then there was his amazing orgy scene, complete with a penis flash, for 1983's Rumble Fish, a very sexy look at his shirtless and faux-tattooed body in Joe (2013), plus his bare butt when he wears a hospital gown in Matchstick Men (2003).
Wanna see something else? Say "next" and watch Next to see him in his underwear again. He looks good as hell shirtless as he proves in early work like Valley Girl (1983) which was his first time being billed as 'Nicolas Cage' and not Nicolas Coppola. We love seeing him bulge out in his underwear in trippy action film Mandy (2018) and in Between Worlds where he appears between taking off his clothes and keeping them on. 
He shows off absolutely incredible abs in both 1984's Birdy when he works out in the backyard and 2007's Ghost Rider, proving how well he ages, and gets squirted (sadly only with condiments) in Dog Eat Dog (2016). Last but not least, Nic did yet another shirtless scene in 2012's Adaptation!
Let's hope the rest of his career is as phallic as it is prolific!