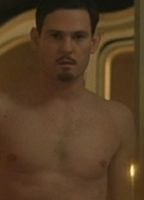 Keywords: No Nudity, White, Brown Hair
Birthplace: San Antonio, Texas, US
Date of Birth: 09/09/71
Real Name: Henry Jackson Thomas Jr.
Top Scenes
00:46:26

Henry walks into a room without a shirt. (10 secs)
advertisement
Biography
As Elliott in Steven Spielberg's sci-fi classic E.T. the Extra-Terrestrial (1982), Henry Thomas has secured his place in cinematic history. The adorable child actor continued to star in family films like Cloak & Dagger (1984) and The Quest (1986). As puberty took hold, Henry took on adult content via the costume drama Valmont (1989) starring Colin Firth, Annette Bening and Meg Tilly. Thomas then played a young Norman Bates in the TV movie Psycho IV: The Beginning (1990). The revealing role allowed him to show his dark side — as well as his pecs and wet panties! More TV movies (A Taste for Killing, Beyond Obsession, Indictment: The McMartin Trial, Riders of the Purple Sage) followed as well as a part in the suggestively-titled miniseries Moby Dick (1998). The busy brunette also popped up in epic period flicks such as Legends of the Fall (1994) with Brad Pitt; All the Pretty Horses (2000) with Matt Damon; and Gangs of New York (2002) with Leonardo DiCaprio and Daniel-Day Lewis. Next came the 1940s-set romance I Capture the Castle (2003). The R-rated British film features Romola Garai, Bill Nighy, Rose Byrne, Henry Cavill, Tara Fitzgerald, and Henry's flesh! We enjoyed seeing his lean physique wrapped in a sheet since it let us peek at his naked chest! By 2019, Thomas played The Bartender/Jack Torrance in Stephen King's Doctor Sleep and reprised his iconic role of Elliott for an E.T.-inspired holiday commercial. Hey Henry, if you're looking for something to unwrap, we'll be right here!