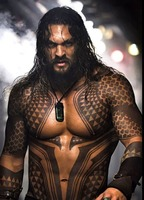 Biography
Jason Momoa got his start in the Baywatch spinoff Baywatch Hawaii, but his big break came when he won the role of Ronon Dex in the TV show Stargate Atlantis. He is known for working out and being in fantastic shape which we caught in shirtless glimpses of during his Baywatch days. It was his turn as Khal Drogo in the hit HBO show Game of Thrones that brought him into the mainstream consciousness and out of his clothes.
During the early stages of the first season of Game of Thrones, Momoa's Drogo is married to Daenerys Targaryen. During their honeymoon he takes her to bed and thrusts vigorously into her, giving us a nice shot of his rock hard body from the side. Later he walks into his tent fully nude and sits down. We see him from behind with his warrior's ass bared for all to see. As he turns there might even be a slight glimpse of his little dragon.
Momoa says he didn't mind being nearly nude the entire time he was on screen in Game of Thrones. He had just wrapped shooting Conan the Barbarian (2011) so he was bulked up and in good shape. He went on to say that the wig and eyeliner he had to wear every day helped get him into character. He also plays Aquaman in - what else? - Aquaman and continues to be shirtless under and above the water. Your pants will be drenched when you see him shirtless again in See (2019). See as much Jason Momoa as possible!