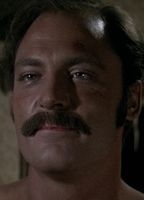 Keywords: No Nudity
Nude Roles: 1
Birthplace: Savannah, Georgia, US
Date of Birth: 06/02/41
AKA: Stacey Keach, Stacy Keach Jr.
Top Scenes
00:41:20

How's about a 30 year old Stacy Keach looking like a cowboy snack while climbing back into bed?!? Yes please, and thanks for showing off his buns and man bush! (39 secs)
advertisement
Biography
If ever there was a legendary tough guy on the silver screen, we'd like to pitch Stacy Keach as being one of the more intimidating and talented.  This walking jawline with one of the deepest voices in the business started his insanely successful career back in the 1960s!  He's played cowboys, vice cops, private detectives, archbishops, white supremists, and even an insane albino trying to kill Paul Newman.  Stacy actually got his start as a classically trained theater actor before getting his first big screen credit in 1968's The Heart Is a Lonely Hunter, and has been racking up lifetime achievement awards for his work in plenty of Shakespearean productions all over the world.  Some of his most recognizable roles have been opposite some of the biggest movie stars of all time.  He was in American History X (1998), Escape from L.A. (1996), Up In Smoke (1978), and Luther (1974), just to name a handful of bigger roles over his storied career.  Keach even took home a Golden Globe for his portrayal of Papa Hemingway in the TV Mini-series Hemingway (1988).  Over the years, he's been on some of the most iconic TV shows all time as well, taking on the lead role of Mike Hammer on multiple series, voiced H.K. Duff on The Simpsons, and even did a 54 episode run as the lead's father on Titus.  Needless to say, dude has been around tinsel town for quite some time!  Lucky for us too, we got some young Stacy Keach cheeks with his nude debut in 1971's Doc.  He plays the titular sickly outlaw famous for the gunfight at the O.K. Corral, and he shows us some serious skin opposite Faye Dunaway!  Keach, the REAL Georgia peach.  
Filmography
Doc (1971) - as Doc Holliday
00:41:20

How's about a 30 year old Stacy Keach looking like a cowboy snack while climbing back into bed?!? Yes please, and thanks for showing off his buns and man bush! (39 secs)