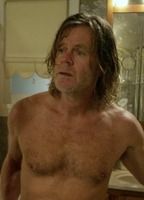 Keywords: Great Nudity!, White, Brown Hair
Nude Roles: 4
Birthplace: Miami, Florida, US
Date of Birth: 03/13/50
Real Name: William Hall Macy Jr.
Top Scenes
Ep. 03x12

More Macy moon through the open hospital gown. (5 secs)
advertisement
Biography
Skilled actor and erection creator William H. Macy describes himself as an everyman, but not every dude has been nominated for three Golden Globes, one Oscar and is a two-time Emmy winner! Best known for his remarkable work as Jerry Lundegaard in the Coen brothers' crime thriller Fargo (1996), Macy has since been typecast as a worried, down on his luck Joe Schmo's. Good news for skin fans: he has also been known to show quite a bit of his round ho-ho! While William may play a bad luck cooler in The Cooler (2003), his bare buns debut in his first love scene ever at fifty years old was anything but cold. Mr. Macy heated things up further by going gay with a little prison love in Edmond (2005). In Wild Hogs, he did not show us his hog which was disappointing, but he DID go wild and show his ass. More recently this veteran cutie has proven he really has nothing to hide in the U.S. version of the popular U.K. hit TV show Shameless. As the selfish, alcoholic father of six  Frank Gallagher, there is hardly a single episode where William's pale skin wasn't a'flashing. We've even see Will's willy! There's no shame in showing that off! Most recently you can catch William and his sexy self in movies such as Room (2015), Blood Father (2016), Krystal (2017), and a recurring role in the TV mini-series The Dropout. With any luck we'll get some more nudity from Mr. Macy in the very near future!
Filmography
TV Shows
Ep. 11x06 | 00:05:06

William H. Macy bangs a babe on a dresser after knocking off everything sitting there and knocking us out with that ass. Then they move to the bed for quick fun. (52 secs)
Ep. 08x01 | 00:37:42

William H. Macy gets into a hot tub naked, showing off his beautiful bare ass! (7 secs)
Ep. 07x08 | 00:37:29

William H. Macy strips down in the kitchen to reveal his truly, unequivocally ageless ass! (27 secs)
Ep. 07x03 | 00:27:15

William H. Macy squishes his ass against the window of Fiona's restaurant. (5 secs)
Ep. 07x02 | 00:36:03

The ageless Macy brings on the butt and ball parade while heading to the bathroom. (53 secs)
Ep. 06x10 | 00:16:21

William H. Macy gives us a great look at his white ass as he pounds a horny chick. (16 secs)
Ep. 06x08 | 00:06:04

William H. Macy shows everything but junk as he pounds a girl before turning over to chill in bed. (2 mins 52 secs)
Ep. 06x01 | 00:56:08

William delivers a nice side package as well as some Macy mounds while sporting some tiny undies! (21 secs)
Ep. 05x12 | 00:30:24

There's no post-poke cuddling for William. He gets up out of bed, shows his butt, and enjoys some gun play. (2 mins 18 secs)
Ep. 05x11 | 00:28:06

The best place to have sex is on a railroad track. William manages to get out of the way of a speeding train, showing off his buns in the process. (1 min 3 secs)
Ep. 05x11 | 00:48:53

William is ass out on the floor, brandishing a boner that we don't get to see. (2 mins 20 secs)
Ep. 05x10 | 00:24:20

William enters the room to announce that the shower doesn't work, giving us a full-on look at his fine behind. (32 secs)
Ep. 05x09 | 00:31:00

William loses his clothes to go on a naked run with his lady friend. (28 secs)
Ep. 05x08 | 00:22:38

It's the ol' butt-through-the-hospital-gown scene thanks to William. (1 min 26 secs)
Ep. 02x03 | 00:38:15

William bares his butt and pubes during an odd moment of sex. (1 min 5 secs)
Ep. 02x09 | 00:15:35

It's William's turn to show off his ass while getting sexy in the kitchen. (42 secs)
Ep. 04x07 | 00:46:42

A nice long butt shot from William H. Macy as he struggles to stand up in the shower. (1 min 16 secs)
Ep. 01x10 | 00:23:20

William moons the insurance guy. What a view! (13 secs)
Ep. 01x12 | 00:02:40

William falls on his face, showing his impressive butt in the process. Good morning! (34 secs)
Ep. 01x05 | 00:08:42

William gets a physical, and we get a look at his butt. (36 secs)
Ep. 01x09 | 00:16:40

William flashes some top butt while sponging off in the kitchen. (38 secs)
Ep. 01x02 | 00:45:55

William drops his towel to reveal some pubes and butt. We'd love to touch him, William! (1 min 54 secs)
Ep. 03x12

More Macy moon through the open hospital gown. (5 secs)
Ep. 03x12

William H. Macy stumbles around town in an old hospital gown, butt out flapping in the breeze. (8 secs)
Ep. 09x05 | 00:32:42

William H. concocts a scheme and shows us his butt. (1 min 22 secs)