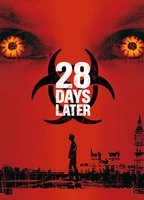 Director:

Danny Boyle

MPAA Rating:

R

Runtime:

113 Minutes

Theatrical Release:

11/01/2002

Home Release:

10/21/2003

Theatrical Release:

06/27/2003

Country:

United Kingdom

2 Blog Posts for this Title >>
Why can't animal activists ever listen when a scientist tells them not to unleash the chimps that have been infected with a highly contagious virus that results in unbridled rage?  If they did, we wouldn't have a movie.  That's how things begin to quickly unravel in "28 Days Later".  A chimp bites one of the activists who then proceeds to infect the rest of the group, leading to widespread skinfection.  28 days later we meet Jim (Cillian Murphy) who wakes up from a coma in a deserted...
Join Mr. Man for the full Review >>
Top Scenes
Celebs
Titles similar to 28 Days Later...