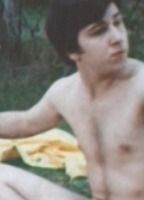 Keywords: Great Nudity!, White, Brown Hair
Nude Roles: 2
Birthplace: New York, New York, US
Date of Birth: 04/28/49
Date of death: 08/14/06
Real Name: Bruno Giovanni Quidaciolu Jr.
Top Scenes
00:23:48

Enjoy the fully nude stylings of Gregory Harrison, Don Johnson, Bruno Kirby, Michael Greene, and more as they participate in a stark-naked, hippie hand holding ceremony. (1 min 4 secs)
advertisement
Biography
The entertainment industry lost Bruno Kirby far too soon. Before passing away at 57, the adorable actor pleased fans with his big (Good Morning, Vietnam) and small (Entourage) screen performances. Through the years, Bruno appeared in Cinderella Liberty (1973) with James Caan; The Godfather: Part II (1974) and We're No Angels (1989) with Robert DeNiro; The Freshman (1990) with Marlon Brando; and Donnie Brasco (1997) with Al Pacino. With cast mates like this, we're surprised Kirby wasn't made an honorary member of the Corelone family! Born Bruno Giovanni Quidaciolu Jr. in New York City, the Big Apple babe played the Frank Sinatra-loving Tommy Pischedda in the mockumentary classic This Is Spinal Tap (1984) and Ed Furillo in the Western romp City Slickers (1990). Bruno also lent his amusing presence to the comedies Modern Romance (1981), Tin Men (1987), and When Harry Met Sally… (1989). To change things up, he went bottomless in the medieval drama Flesh + Blood (1985). The X-rated flick features Rutger Hauer, Jack Thompson, and Kirby's cock and balls hanging out by a fire. Talk about a weenie roast! In addition to being seen (The Basketball Diaries, Sleepers, Spy Games) and heard (Stuart Little) in movies, the hardworking hottie steamed up the small screen (The Super, Room 222, It's Garry Shandling's Show, The Larry Sanders Show) with guest spots and recurring roles. But we'll always remember Bruno's abs, ass, shaft and sack in The Harrad Experiment (1973). By flashing his flesh on film, Bruno leaves behind a skintastic legacy!
Filmography
01:34:00

Bruno goes full frontal at the fire pit gathering. (7 secs)
00:23:48

Enjoy the fully nude stylings of Gregory Harrison, Don Johnson, Bruno Kirby, Michael Greene, and more as they participate in a stark-naked, hippie hand holding ceremony. (1 min 4 secs)
00:46:20

Don Johnson only bares his butt in the pool, so instead look to Bruno, Elliott, and Gregory who go all out with full frontal. (3 mins 15 secs)