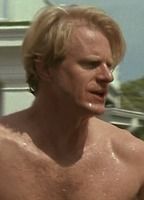 Keywords: Brief Nudity, White, Blond Hair
Nude Roles: 2
Birthplace: Los Angeles, California, US
Date of Birth: 09/16/49
Real Name: Edward James Begley Jr.
Top Scenes
00:54:02

The toned Ed Begley Jr. gives vintage ass realness while nude in front of a room full of dudes! What's gonna happen next boys? (1 min 58 secs)
advertisement
Biography
Two of the biggest influences on Ed Begley Jr.'s life are 1) his father, Ed Begley, who won a Best Supporting Actor Oscar for Sweet Bird of Youth (1962); and 2) the environment. Standing at 6' 4", Ed Jr. is one tall glass of wheat juice! He's also a prolific performer who has appeared in movies (An Officer and a Gentleman, Auto Focus, This Is Spinal Tap, The Accidental Tourist,  Batman Forever, Pineapple Express, Ghostbusters) and on TV (7th Heaven, Arrested Development, Battlestar Galactica, Six Feet Under, Living with Ed). Decades ago, the blond babe played a porn actor in Paul Schrader's neo noir crime flick Hardcore (1979). Ed then scored six consecutive Emmy nominations for portraying Dr. Victor Ehrlich on St. Elsewhere (1982-1988). Oh, how we wish he made house calls! Luckily, the tall dude went nude in a couple of films from the '80s. He flashed his abs and ass in the R-rated romp Amazon Women on the Moon (1987). Next came Susan Seidelman's comedy She-Devil (1989). The PG-13 movie stars Meryl Streep and Roseanne Barr, but the real scene stealers are Ed's pecs! In addition to touting his toned torso, the skintastic stud bares his firm buns! By the 2000s, Ed exposed his… improvisational skills in a few of Christopher Guest's mockumentaries (Best in Show, A Mighty Wind, For Your Consideration). But mostly he's nationally recognized for looking out for Mother Earth. Of course, we're sure Ed's Begley Jr. is large despite the small size of his carbon footprint!
Filmography
00:31:40

A very distressed Begley Jr. emerges from a bubble bath wearing nothing but a tiny pink towel! (55 secs)
00:54:02

The toned Ed Begley Jr. gives vintage ass realness while nude in front of a room full of dudes! What's gonna happen next boys? (1 min 58 secs)